Everyone has a strong point and weak point. However, we tend to criticize the latter instead of strengthen the former, in schools, works, politics, etc.
That's why I will focus on Japanese good part instead of talking about its loss in the World Cup. (In Chile, daily TV channel even showed Japanese match except the one with Colombia…)
Well, as many people might have heard, Japanese supporters brought some plastic blue garbage bags to Brasil for cheering up ( Blue is the symbol of the national team "Samurai Blue" although there is no official reason explaining "why blue") and then cleaning up even after their loss (well, Japan never won in Brasil, but again, let's stick to the strong point….).
Although Japanese society and characteristic has some weak points, I was really proud of being Japanese when I heard about this (even though I did nothing in this regard), just like the victims of the 2011 earthquake/tsunami shared few materials available and respected with each other.

Supporters cheer up the team "Samurai Blue" with blue plastic bags (Source of the photo)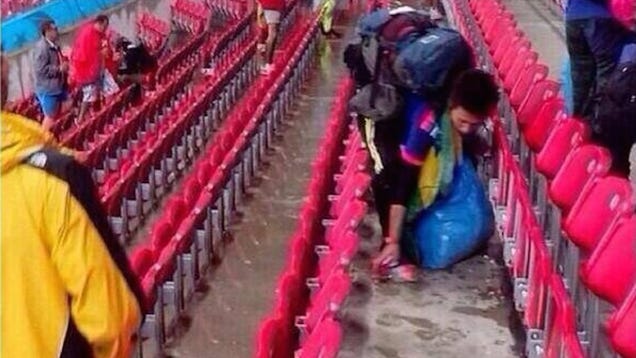 Cleaning up the stadium after the loss of Samurai (Source of the photo)
Then I recalled something related to cleaning up.
About 7 years ago, I was studying acting in New York. Getting involved with stage performance had lots to do with cleaning up and everybody seemed to be unwilling to do so. But at least it did not bother me at all, since I was used to it.
I was just cleaning up the floor, by using a broom with one hand and and a dustpan with another hand. Then I felt someone's stare strongly, It was one of my classmates from Jamaica Queens, NY (not country). After a while, she came to me saying
"Hey, how do you do that?"
Then I replied " How do I do what?"
Then she went on to say "that!!" by pointing the bloom and dustpan I was using.
It took me a while to understand the situation.
For someone who had a Japanese education in which students are to clean up the school (classrooms, hallway, playground or even bathroom), it was normal to know how to use those cleaning-up tools. Except that school experience, however, I realized that I had never used those tools in my life (thanks to a vacuum cleaner).
While Japanese education system has many problems to be tackled (too much focus on University entrance, lack of practical English lessons, relatively less discussion and diversity in classrooms, let alone inclusion, to name a few), there are some great parts, one of which is putting cleaning time into the school schedule.
Even though many students don't seem to like it (I was one of them), they learn many things: technique and significance of cleaning up (as was shown in my acting case), sense of belonging ( by having more connection with "the school I clean"), discipline, teamwork, etc. Furthermore, it can save a lot of money comparing to other countries where stuff have to be hired to clean up the schools.
Japanese supporters in Brazil inspired all over the world as if to say "You have to be responsible for the trash you produced". And I think Japan has a good example of showing the culture of cleaning, as its education system has taught us to do so.

Students clearning up the classroom(Source of the photo)
Also, it's worth mentioning that until December 31th, we have to finish a big cleaning up so that you can begin a new year with clean environment.
Let me close this entry with Japanese famous phrase when teachers tend to use in school excursion.
We have to make the place of excursion even cleaner than before we came.
The excursion will last until the very last moment you get home!