I can't help……writing about this news: Nobel peace prize 2014 was awarded to Malala from Pakistan! And what's more interesting is that she is sharing this with Indian child's right activist, Kailash Satyarthi.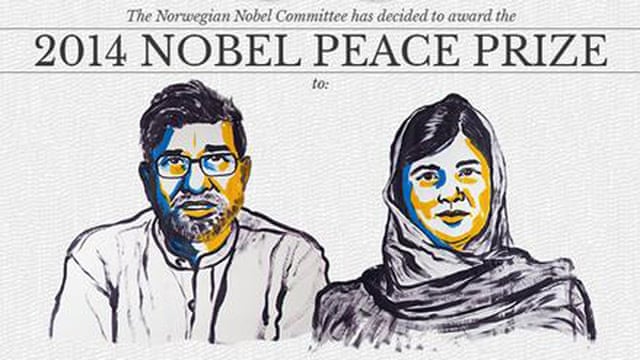 Here's her speech.

Especially, the part after 1:40 was impressing:
It gives a message to people of love, between Pakistani and Indian, between different religions.
Since India and Pakistan has been suffered from the bilateral conflict, I hope this award can help to improve their relationship as she addressed in her speech.
Actually, when I wrote about her nomination of this prize last year, I thought sooner or later she would win this prize and she deserved it.
Although I mentioned about her many times, let me reiterate that she is such a great icon to make change in many ways: by continuing speaking out without surrender, she has contributed to the advocacy of good images of Islam, importance of education and empowerment of children.
However, not only did Malala contribute to many achievements, her family also has had a lot to say to the world, as this NYTimes' article "Mother of Malala Yousafzai Learns to Read and Write" shows. According to this, her mom (house wife) is leaning English, becoming independent, and her father (education activist) is learning how to cook at home. Malala says this is very important because it can flip the stereotype of men working outside and women staying home, and it can show an example to the world of how things change with the help of awareness.
In other words, this flower of Malala came from the seed, her family, In fact, she really thanks to her dad in her speech.
Nobel peace prize to the Malala family!!
"Malala" is not only a person but also a big symbol of girl's empowerment as this video "I am Malala"shows: